Frequently Asked Questions
You have questions. We have answers.
What is an off-site built modular home?
Modular homes from Residential Builders are constructed in a climate-controlled environment using state of the art engineering and assembly line techniques. Residential Builders uses the same brand name building materials and builds to the same building code requirements as any local "on-site builder". State or independent third party inspectors carefully inspect each home we build. Modular homes are shipped to the building site, erected on the foundation by a qualified set crew and completed by Residential Builders' staff & subcontractors. Once completed, modular homes are indistinguishable from "on-site built" homes.
Why should I build my home with Residential Builders?
Residential Builders is dedicated to building friendships not just customers. This requires the highest level of attention to quality, speed, and value and this is our commitment to you.
Why should I choose modular home over site built home?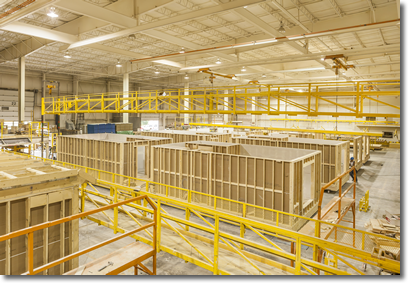 Protection from the Elements
Have you ever driven past a partially constructed, site-built home on a rainy day? Have you thought about what is happening to the wood and other materials as the water covers them? Warping, separation, saturation, mold and mildew are just a few of the risks that one might incur while building a home in a "traditional" manner. In contrast, all of our lumber is stored in the protective environment of a world-class manufacturing facility alongside all of the other materials and components that will be used in the construction of your home.
Design
A team of highly qualified design engineers and computer aided drafting technicians generates all of Residential Builders' floorplan designs. Regardless of style - ranch, cape cod, or two-story - you can be assured that every aspect of your home has been meticulously reviewed from an engineering perspective. Residential Builders offers its customers a tremendous amount of flexibility in both design and scope. Hundreds of options are available for every room of your house. If you have a custom plan in mind, we can also work with you to turn your dream home into reality!
Timeframe
In most cases, a modular home as constructed by Residential Builders can be built in about half of the time required to build a comparably sized and equipped site-built home. Streamlined production processes and protection from weather hindrances help to facilitate a quick production cycle. Further, preparations for electrical and mechanical systems combined with our professional and efficient management of site trades allows us to expeditiously complete your project.
One Stop Shopping
Building your new home with Residential Builders offers many unique advantages. Let us take you on a 3D virtual tour of your floorplan - inside and out! - with our powerful Chief Architect program. You'll be amazed when you see your color choices (floorings, cabinetry, countertops, etc) coordinated and ready to view.
How are modular homes built?
Today's modular homes are models of efficiency and quality assurance. The process of building your new home starts with the design phase. Your new home is drawn up using state of the art computers, which aids in the customizing of your new home and in producing drawings and materials lists. Once designed, the building process begins. This process involves modern factory assembly line techniques. Your home travels from station to station where all of the building trades are represented. Work is never delayed due to weather, sub-contractor no shows, or missing materials. The quality control process assures you that your home has been inspected for code compliance and workmanship. In-plant inspectors as well as independent third party inspection agencies inspect each home to make sure that your new home meets all the state and local codes.
Are Residential Builders modular homes energy efficient?
Yes. Residential Builders is committed to using energy efficient building methods and materials. Our homes are built standard with 2" x 6" exterior walls and R-21 insulation, R-38 ceiling insulation, warm edge low-e glass windows, and insulated exterior doors. Residential Builders also offers geothermal heating & cooling, and an optional florescent lighting package that meets the requirements of ENERGY STAR®.

I hear a lot about Green Building. Are modular homes "green"?
Green building is a practice of using sustainable materials and designs in new construction. Yes, modular homes are by their very nature green. Assembly in an enclosed indoor environment minimizes waste material at the factory and at the job site, lessens the environmental impact on the land and the community where the house is being delivered, and allows for a tightly built structure to maximize energy efficiency - all of which are key components to green building standards.
Can I design my own floor plan?
Absolutely! Residential Builders has hundreds of customizable floor plans available, we can create a custom floor plan design just for you, or you may bring in your own plan.
What does price include?
100% complete ready to move in, however some customers prefer to purchase some items elsewhere (such as appliances).
Do I have to hire my own contractors?
No. Residential Builders specializes in complete turnkey construction. We are happy to handle all aspects of the construction process, including excavation, foundation, well/septic, garage, porch, etc. We'll even secure your building permits for you! However, you will need to water your own lawn after we are finished.
Can I do some of the work myself?
It is possible to act as your own general contractor in order to reduce some of the labor costs associated with your new home. However, it is important to have the general knowledge and experience necessary in order for this to really save you any substantial amount of money. If you do have the expertise to do some of the work yourself, Residential Builders can design a package that fits your individual needs.
How do I finance a modular home?
Mortgage lenders treat modular homes the same as site-built homes and offer the same mortgage options. Modular homes are also treated the same as site-built homes when it comes to appraisals and insurance. In addition, modular homes appreciate in value at the same rate as comparable site built homes in your area.
You are welcome to obtain your own financing - Residential Builders will be happy to work with your financial institution. Also, Residential Builders can refer you to any number of local lenders that we have worked with in the past.
Are Residential Builders modular homes covered by a warranty?
Yes. Every home from Residential Builders comes with a full one year limited warranty and a 10-year structural warranty. Residential Builders has a dedicated service department to provide professional service. In addition, many of the brand name components (such as appliances, major mechanicals, shingles, siding, etc) used in your home are covered by separate manufacturer warranties.